This is our community, our tribe, our family.
Each person who walks through our doors is what makes The Yoga Loft so incredibly special.
We love each and every one of you!!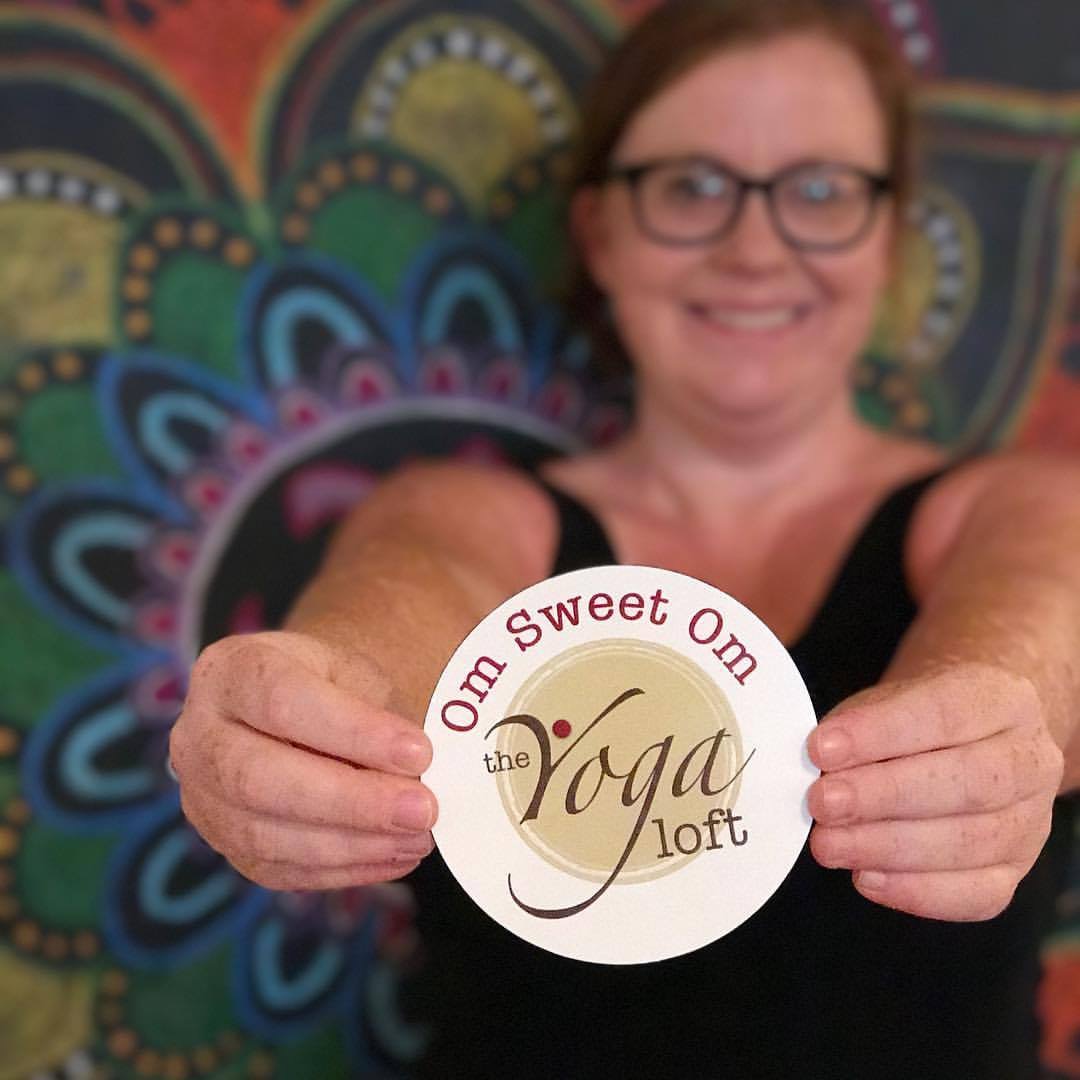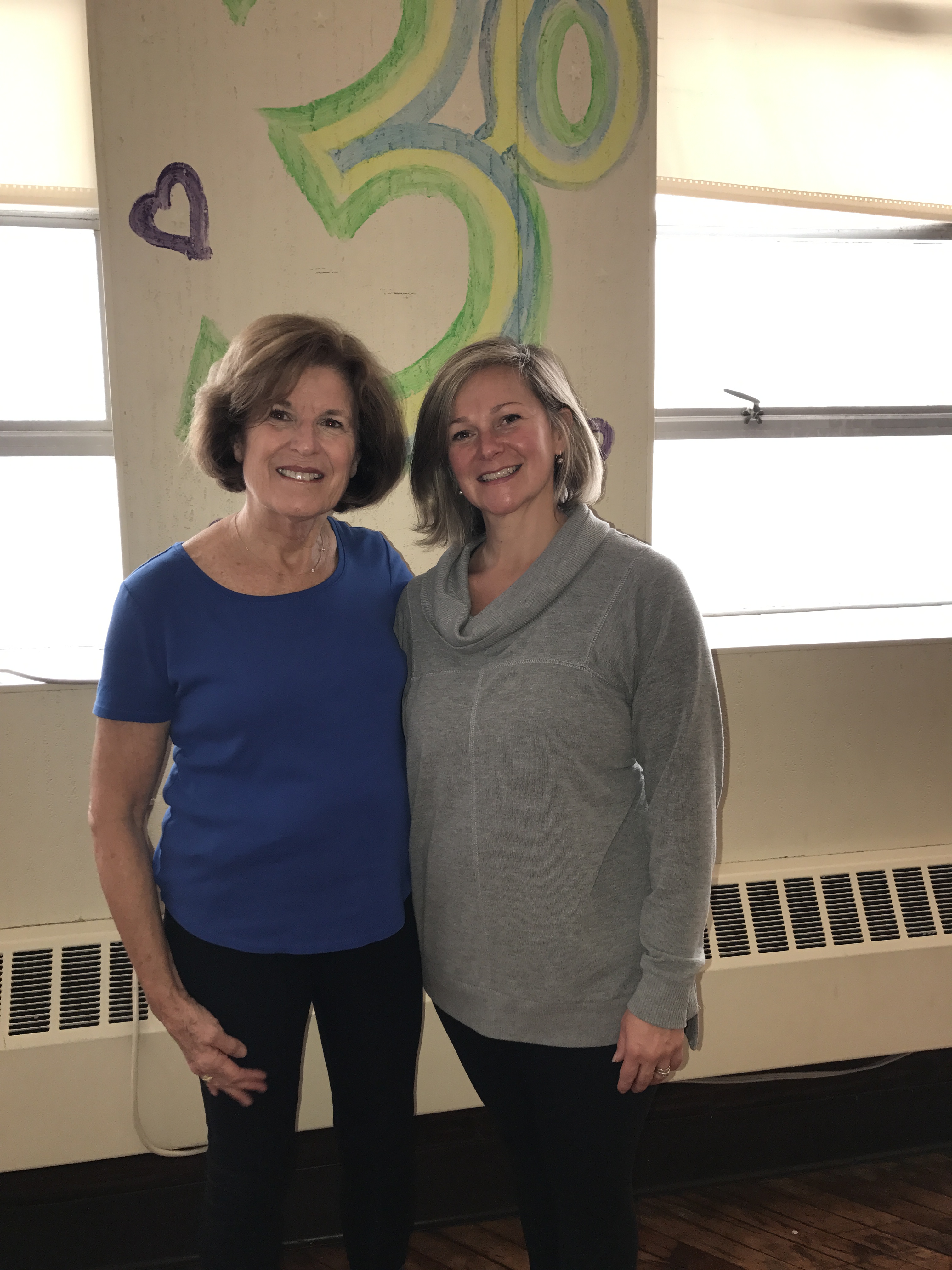 Susan Haytmenek (student) & Kim Heffelfinger (teacher)
Kim says:
Susan has been a dedicated student of yoga at The Yoga Loft for the 6 years that I've known her.  We met when I started working and practicing here.  I'd see her when we were taking level 1 classes together on Tuesdays and Thursdays and when I was working the front desk, checking her in for class on other days of the week.  It is always brightens the day when she walks through the front door offering her friendly smile and uplifting conversation.  She has been a constant inspiration during my transition from student to teacher at the Yoga Loft, acting as a mentoring peer, then as an engaged and receptive student.
Susan is very expressive in her yoga practice.  As an instructor, it is a joy to have her in class and watch her evolution as a yogi and her expression of fulfillment in learning new poses and techniques.  She frequently offers her opinions and critiques of my classes, which I appreciate and find beneficial – I can always rely on her honesty and encouragement.  Sometimes she leaves me wondering to myself, "who is the teacher here?".
Despite always being on the go, Susan is dedicated to her practice.  She always gets right back in the groove after hustling around the country to spend time with her grandchildren.  Her relationship with yoga has allowed her to find balance and focus while maintaining a busy life schedule.
Susan says:
About ten years ago, I first walked nervously into the door of the Yoga loft.  Earlier attempts at yoga classes at gyms were unsatisfying, but "finding yoga" was my retirement goal, so up the 44 steps I trudged!  Aerobics classes had become actually painful to my joints, and I was determined to find a different way to stay fit.
Classes at the Yoga loft worked for me on every level. Not only have I increased my strength, flexibility and balance, but also I have embraced the philosophical, almost transcendental aspect of yoga classes. I now try to 'be in the moment', to accept my limitations, and to be more patient with myself. Practicing yoga has helped me with the challenge of finding balance in my life.
Ten years later, at age 70, because of my regular, twice -weekly class practice (in addition to practice at home), I can still hike with my husband, carry chubby grandbabies up the stairs, or play on the floor with the little ones.
Each teacher at the Yoga Loft has taught me new ways of looking at my practice.  Kim and I grew in our classes together as students.  My teacher now, Kim brings new challenges to each class, keeping me engaged and striving.  Every class is different, and requires my complete focus. She never minds when I helplessly laugh at my own attempts at poses, and reassures me when I need it. Lucky for me Kim has moved on to teaching, and greets me with that beautiful smile and spirit each Thursday morning!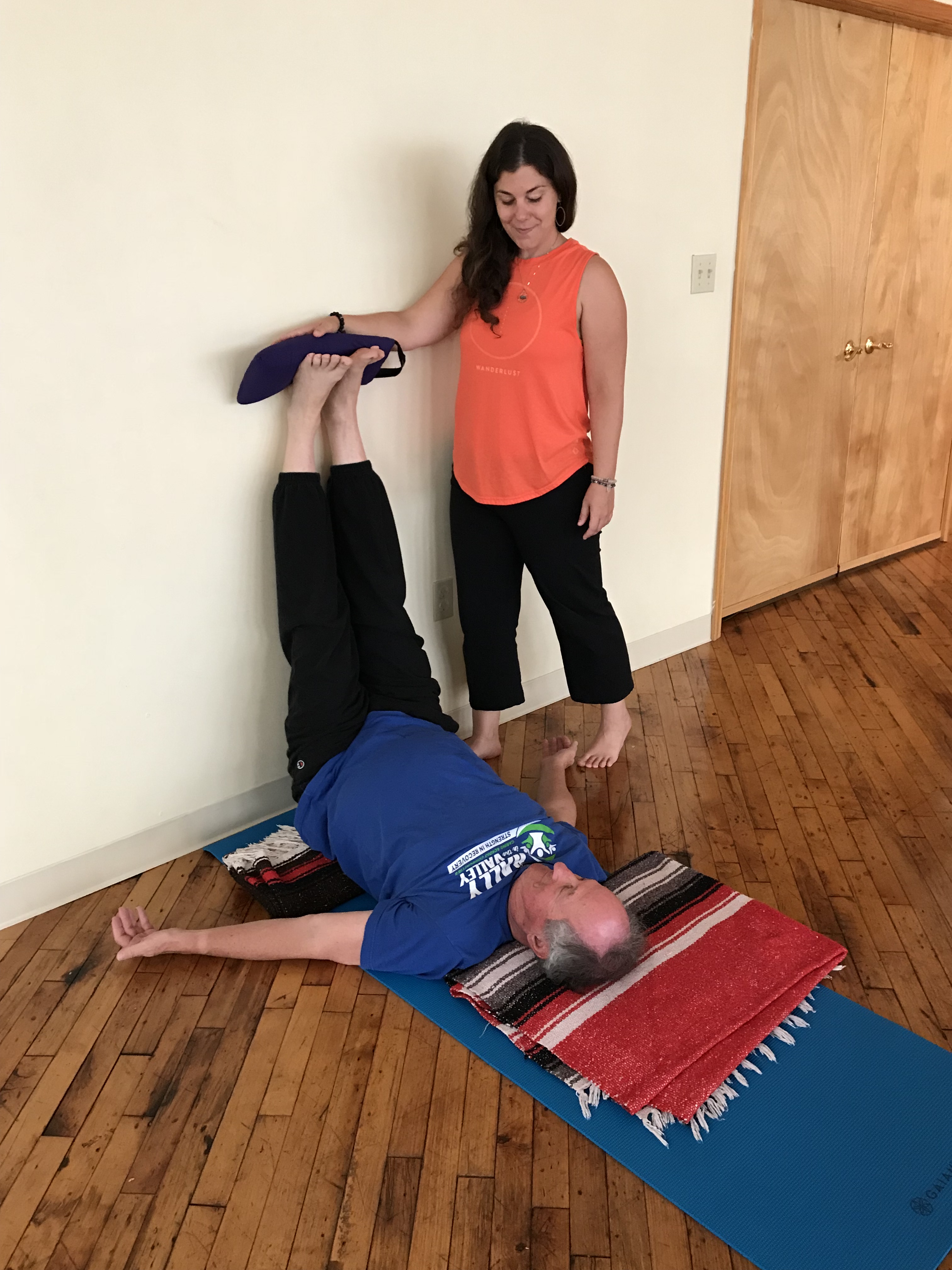 Henry Gursky (student) & Alysha Pfeiffer (teacher)
Henry says:
My physical therapist suggested yoga to me about four years ago when I was recovering from a back injury. I also had chronic pain with another condition. In college I was very into meditation and Eastern thought so I was open to yoga. I began with a gentle asana practice and found restorative yoga. I was a little uncomfortable at first because as an athletic guy, now a senior,  I wasn't sure how I would fit into this culture. I was truly blessed with great teachers at The Yoga Loft. I felt at ease. I felt at home coming to classes. In a couple months, I was astonished that the chronic pain had left me. I thought, "I want to keep this feeling," so I kept coming. The quality of my life improved. Also as a psychologist and a person going through major life transitions in recent years, yoga and meditation are an incredible help. I utilize these practices in my clinical work with my clients. My practice is also a community of wonderful, compassionate folks that I have met through yoga.
I first met Alysha when I started classes at the Yoga Loft. She is a welcoming and inviting teacher who gives her full attention to her students. She eases into postures with clear instructions. Like my other teachers at The Loft, she links breath to movement, and it is important for me to make that connection. In her classes I learned to appreciate the gift of the body as a teacher and communicator. Most importantly, I know that restorative practices are a wonderful way to calm and to reset my brain. Alysha became my go-to advisor, letting me know of workshops and classes that would be beneficial. Through Alysha I met great teachers of yoga and meditation. I feel we are a peaceful community in her classes generating healing and loving energy.
Alysha says:
Henry is one of the kindest people I know. When he comes into the room the vibration instantly rises. He can usually be found giving someone a hug, showing a new student where to set up their mat, or helping us get yoga props from another room if we have a big class. He is always seeking ways he can be of service to his community. I have known Henry for several years and his dedication and enthusiasm for the practice of yoga is very inspiring. Through many conversations about how yoga helps with countless different issues we all face as people on the path, Henry reminds me of why showing up on the mat with a smile and an open heart is always so important. If you are at the Yoga Loft and you see a happy guy that is radiating light, kindness, and joy – go and put your mat next to his, that's Henry.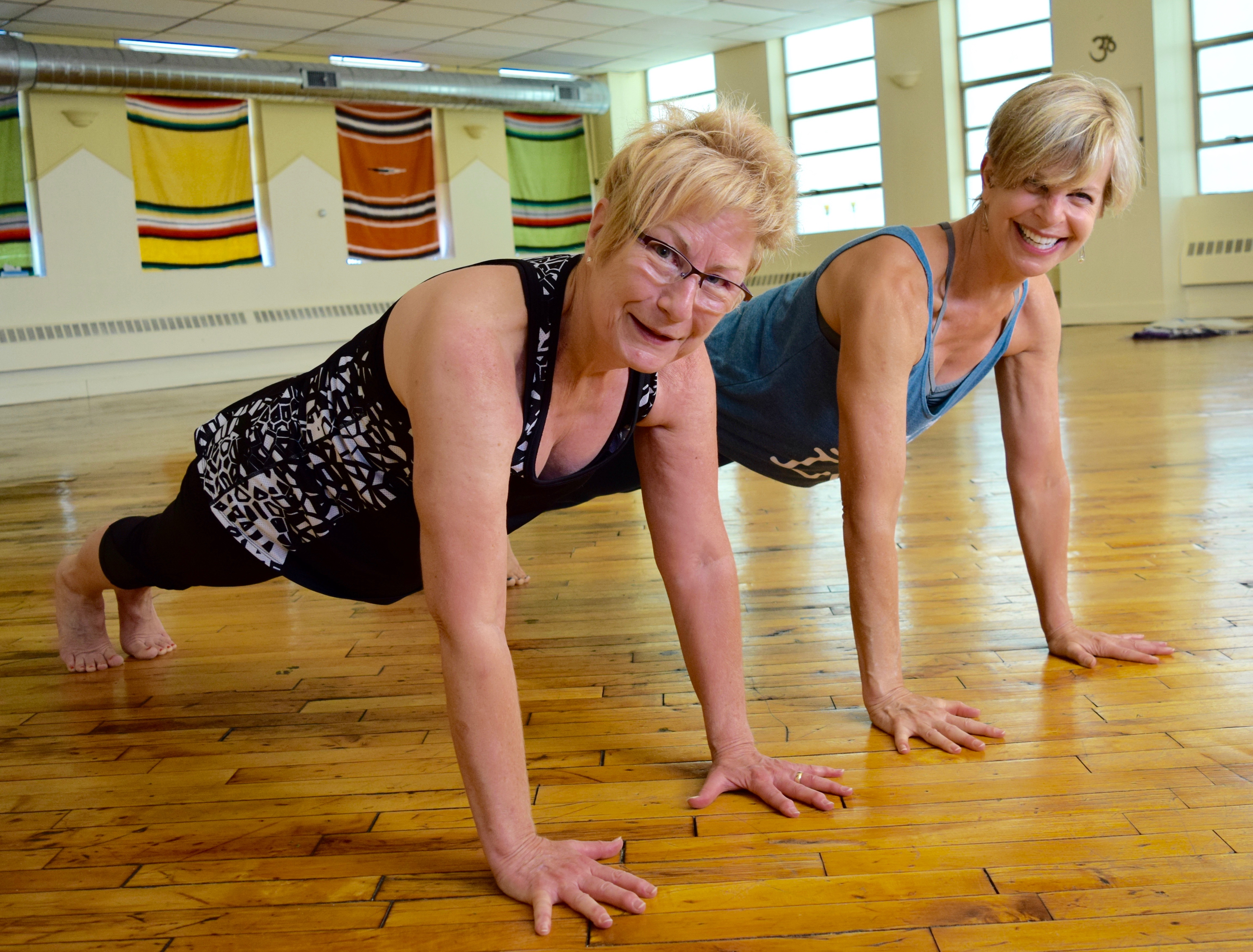 Robin Dillon (student) & Carrie Morgan (teacher)
Carrie says:
Robin has been coming to my Tuesday and Thursday classes for about a year now.  I am always excited when she walks in the door because her dedication to the practice is inspiring! Robin never walks away from a challenge. She works hard and methodically and if she is not sure, she has the courage to ask.  I love the amount of questions and comments that I get from my Tuesday-Thursday classes. We are on a journey of learning together and through that there is a level of camaraderie that is warm and welcoming. I stress "foundation" in my classes. Both from a physical perspective and through the lens of the chakras. As a group, my Tuesday and Thursday students trust the foundation of the practice, trust in my teaching and in themselves, and from this stable platform we all have an opportunity to soar.  I have watched Robin get stronger physically. and more importantly to me, I have witnessed her base of knowledge about all aspects of yoga grow exponentially in this past year. I am so grateful that she comes regularly to share her intellect, energy (sweat) and great sense of humor with all of us.
Robin says:
Carrie is a wonderful teacher–I have learned any number of things about teaching from her. I enjoy her humor and enthusiasm; I am in awe of her physical strength and the way she can say the longest Sanskrit pose names without stumbling; I am grateful for her patience and encouragement; I appreciate her manifest interest in and concern for everyone; I admire her depth of knowledge–her know-that as well as her know-how. But most of all I value her attention to detail and her focus on alignment. The best classes for me are the ones where we concentrate on the mechanics of poses. Second, I like the camaraderie of the group–some of us come all the time, others are regulars, and although I am not an extroverted person, I find comfort in the presence of friendly people who are familiar to me, who I know are not judging or competing with me, who are as interested in this way of doing yoga as I am.
I am a professor of philosophy at Lehigh University, coming up on my 30th year there. My research and teaching are in the area of ethics, and I am finishing up a book about arrogance.  I love to travel; I am obsessed with learning about (and drinking) wine; I read constantly (mysteries at night); I have an acre of Japanese-inspired landscaping that I designed and that needs to be weeded every week; I have a 19-year-old grandson to whom I send links to New York Times articles on science-y topics nearly every day; I enjoy cooking (the "fancier" and more complicated, the better). This summer, having been inspired by binge-watching "The Great British Bake-Off,"  I decided to improve my baking skills by learning to make croissants from scratch (I tried this last summer without any success). I took me a couple of weeks of research and two weeks of baking every day, but I finally produced a batch of chocolate croissants and pain aux raisins that were pretty darn good. I don't bake them to eat them (there's a half pound of butter in each batch!); I just wanted to learn to do something difficult–rather like doing yoga precisely because it is challenging.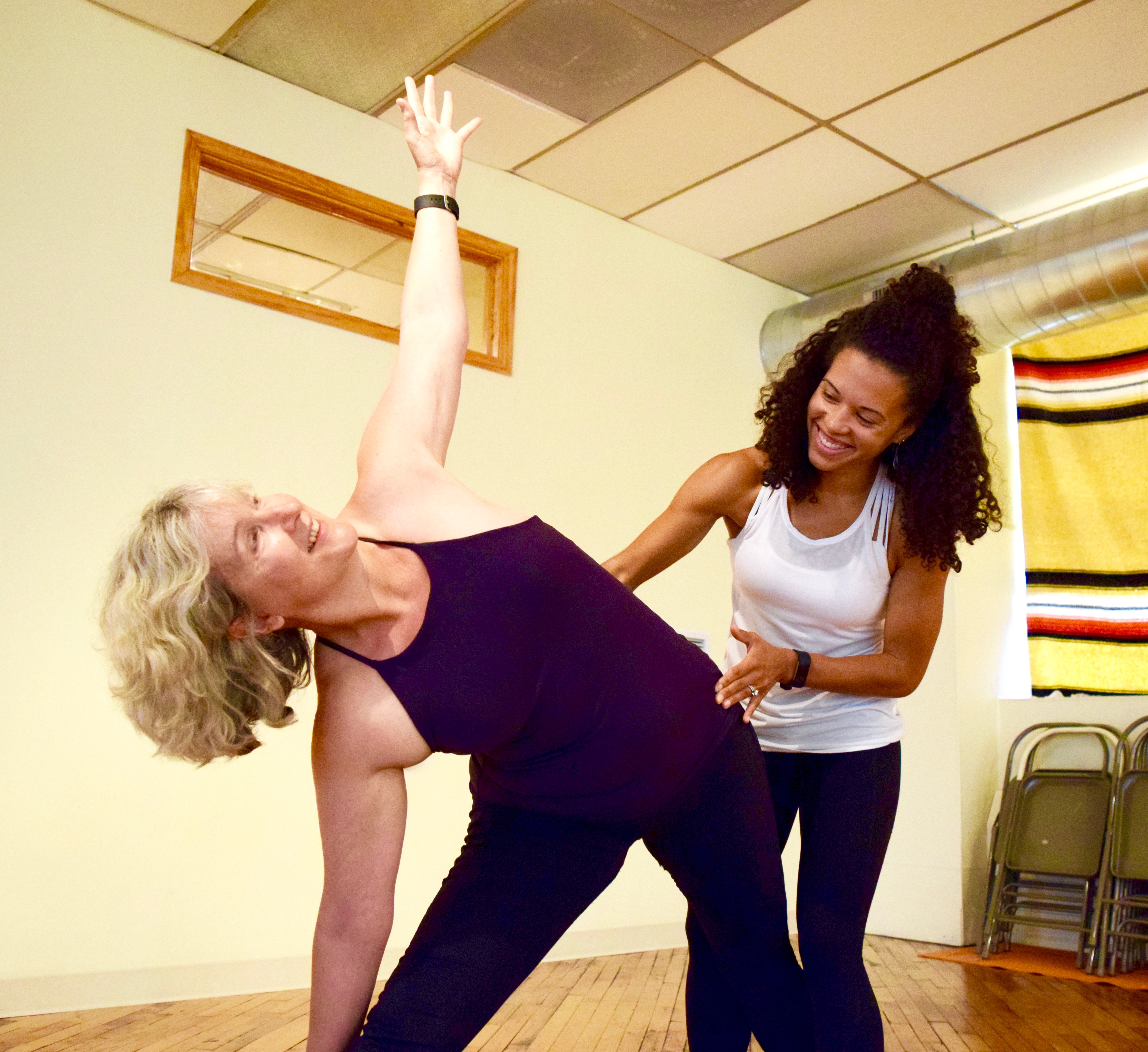 Stephanie Tade (student) & Jessica Vaughn (teacher)
Jessica says:
By watching Stephanie on her mat, it is clear to see she has a radiant, joyful and self-assured personality. She brings a lighthearted, but seriousness to her practice and to the energy of the class. When things get challenging, Stephanie mentally steps up to analyze whatever is in her path but does not let the challenge confront her in such a way that she is stopped by the obstacle. The obstacle becomes a puzzle for her to mull over. She takes the time to assess what is being requested of her and what is happening in her body. If the final conclusion is that this isn't the day for her body to try a new pose then she will rest, or stay in an earlier stage of the pose. If not, she'll go for it, in such a way that she is unattached to the outcome of her attempt. It's not uncommon to hear Stephanie laugh at herself during these moments of class. At the same time, she has a seriousness to her practice, asking questions and then taking the work we do at the studio back home to practice on her own. I think her devoted meditation practice has served her Asana practice well. It's been a pleasure working with Stephanie and watching her get both mentally and physically stronger over the past year.
Stephanie says:
I've been practicing yoga officially, for about 14 years.  I remember it as a kid though (which was a long time ago), practicing with this book called Youth, Yoga and Reincarnation (this was early 70's) and doing a LOT of Halasana (plough pose) at about 11 years old. Since the Yoga Loft started the 7:30 class has been my "go-to" class. It helps me greet my day with a completely different attitude and to feel a little taller, a little stronger as I head out. And Jessica is such a thoughtful, inspiring teacher! Through her instruction and her demonstration, she helps me to feel what a pose can be even if it's a little out of my range – did I say it's a challenging class? It is!  But never in a way that I feel like I'm going to get hurt – she is really a beautiful teacher.
I practice yoga for so many reasons, but an important one is that it helps me to build a relationship with my body from the inside out – you learn things about yourself in yoga that you can not learn from looking in a mirror or even doing different kinds of exercise. It's like lighting up intelligence in the cells of your body, not just your brain. I am 56 years old, and I'm strong and flexible and have a lot of energy, and I know that I would be experiencing a very different 56 years old if I didn't practice yoga. Also as a Buddhist practitioner with a daily meditation practice, yoga is such a tremendous support – it goes hand in hand. One opens space in my body and the other opens space in my mind – it's very good!