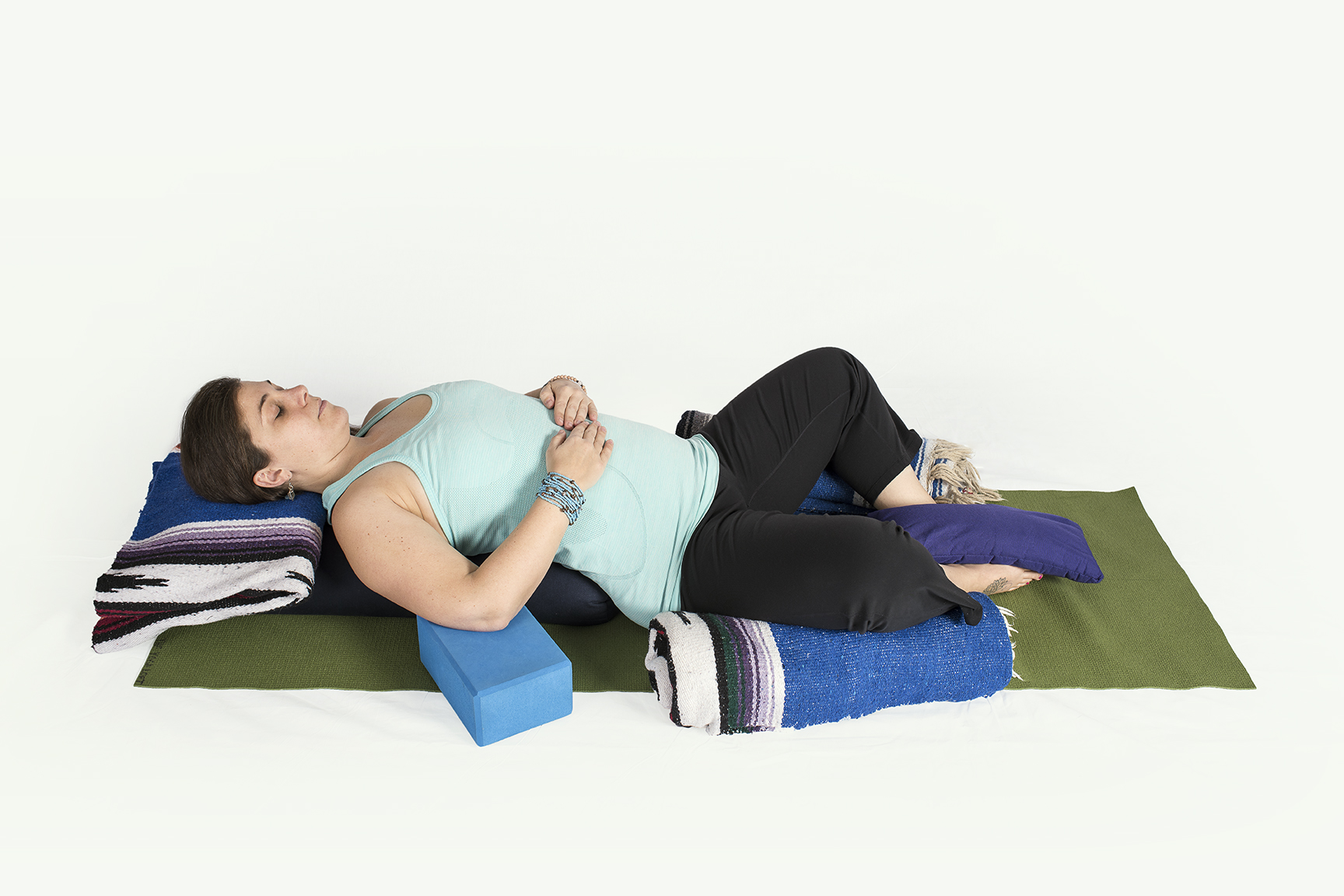 Weekly Restorative Classes:
Candlelit Restoratives
with Alysha Pfeiffer, Tuesdays, 7:30 – 8:45pm (ongoing)
Restorative Yoga is a way of practicing postures that support the body to create deep relaxation and rejuvenation. By using blankets, bolsters, sandbags, and other yoga props, the body is positioned in ways that support and sometimes gently stretch tight muscles. We also practice supported positions that move the spine gently in various directions and apply breathing techniques that quiet the mind and nervous system. This weekly class is perfect for those who want to release tension and stress, and it is practiced in a serene, candlelit environment.
Reserve Your Spot
Monthly Restorative Workshop:
Relax Deeply
with Alysha Pfeiffer, last Sunday of the month, 4-6pm
2017 & 2018 dates:
December 17
January 28
February 25
March 25
April 29 (special class w/ crystal bowls, sign up here)
May 27



This class is an extended version of a typical Restorative Yoga class, offering 2 hours of deep relaxation in supported yoga postures, enhanced by breathing and meditation techniques that deepen the benefits of this wonderful practice. Not only will you feel tension melt away, but you will also restore and rejuvenate your nervous system for an overall sense of calm, wellness and peace. *Bring an eye bag or something to cover your eyes*
Please pre-register for this monthly class by calling or click the "reserve your spot" button below.
Reserve Your Spot
Restorative Yoga Immersion & Teacher Training
with Alysha Pfeiffer
February 9-11, 2018
Join Alysha for a weekend of hands-on, experiential learning. Whether you would like to deepen your own Restorative Yoga practice or share your love of it with others, this is the workshop for you!
Because it is highly adaptable, Restorative Yoga can be a door of opportunity for people who think they cannot do yoga.
Benefits include bringing the central nervous system back into balance, creating openness & space in body, and relieving stress, tension & anxiety. People who have trouble sleeping can also greatly benefit from this style of yoga.
During this weekend you will….

– unplug from the busyness of daily living and practice restorative yoga each time we meet- learn how to set up several different restorative yoga poses & learn exactly how long to stay in them according to your desired results- sequencing and the various ways you can practice or teach the poses based on the amount of time you have
-be given a list of great resources to continue practicing, learning, and teaching after the weekend ends. This will include music, books, online courses, & more.
Friday: 6:30 – 9:00 pm
Saturday: 10:00am – 5:00pm
Sunday: 10:00am – 4:00pm
learn more & sign up here