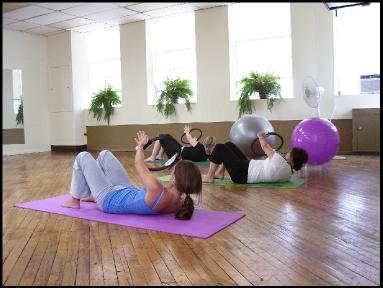 Pilates is an effective system of stretching and strengthening exercises developed over ninety years ago by Joseph Pilates. It tones the muscles, improves posture, and increases flexibility and balance. The secret is non-impact resistance, which eliminates stress on your joints, making Pilates safe, versatile and effective for all ages and fitness levels. The result is a body that is upright, balanced and agile, strong and free of old tensions. Pilates classes are open to all levels.
Mat Pilates Group Classes
with Paola Montes
Tuesdays 5:30-6:25pm 
Cost:
8 classes, $105
Or use your yoga membership/class card!
These classes integrate all of the Pilates Principles at a flowing pace to give you a workout that will leave you feeling strong and energized, yet balanced and at ease in your body. Pilates will help you awaken and connect with your core stability, increase your strength and flexibility, improve your balance, posture and coordination, and develop a positive connection to yourself and your body.
Looking for a more personalized approach?
Ollin Studio @ The Yoga Loft offering One-on-One Gyrotonic and Pilates
with Paola Montes 917.502.1896
TheOllinStudio@gmail.com
www.theollinstudio.com
Paola was born in Mexico City where she received her early dance training at Malinky's Ballet Clasico. She later received a scholarship to Cornish College of the Arts, in Seattle, WA where she completed a BFA in Dance, and went on to perform with regional dance companies in the NYC metropolitan area, as well as abroad in Italy and Mexico. She became a certified Pilates instructor from the Kane School of Core Integration in NYC in 2005, and is a member of the Pilates Method Alliance®. She has studied with world renown Pilates senior teachers such as Lolita San Miguel and the late Kathy Grant. Paola was also certified in Level 1 Gyrotonic® in 2001 at Gyrotonics® on the Hudson, and went on to complete the Level 2 training with founder Juliu Hovarth in 2006. She collaborated closely with Shen Tao's (NYC) studio founder Bill Hedberg in the promotion of A.A.R.T. (apparatus assisted resistance training) as superior training and conditioning for dancers. Paola has taught at various dance and health centers in the Lehigh Valley, and is a happy mother of Polina.
Inspired Movement @ The Yoga Loft offering One-on-One Pilates & Bodywork
with Adrin Eline 206.919.7450
inspiredmovement@gmail.com
www.imovestudio.net
Inspired Movement has evolved over 10+ years of exploration, education and practical application. Adrin, owner and instructor, integrates the best of Pilates, Functional Anatomy, Yoga & Body Rolling to personalize each session, which is key to meeting each client's unique health and fitness needs. Adrin is dedicated to improving the bodies and lives of others. Her Pilates practice began in 1996 to relieve chronic shoulder pain from drafting in her Interior Architecture career. In only a few months she developed a deep awareness of her body's patterns, greatly improved her strength and flexibility and fell in love with the precision and movement unique to the Pilates method. In 2003 Adrin received her Pilates certification from Mind and Body, Inc. in Seattle. The program emphasized classical Pilates work while encouraging individualized instruction based on the client's postural assessment, lifestyle and injury history. Her enthusiasm for the method and her creative approach to teaching are a constant source of inspiration to her clients.