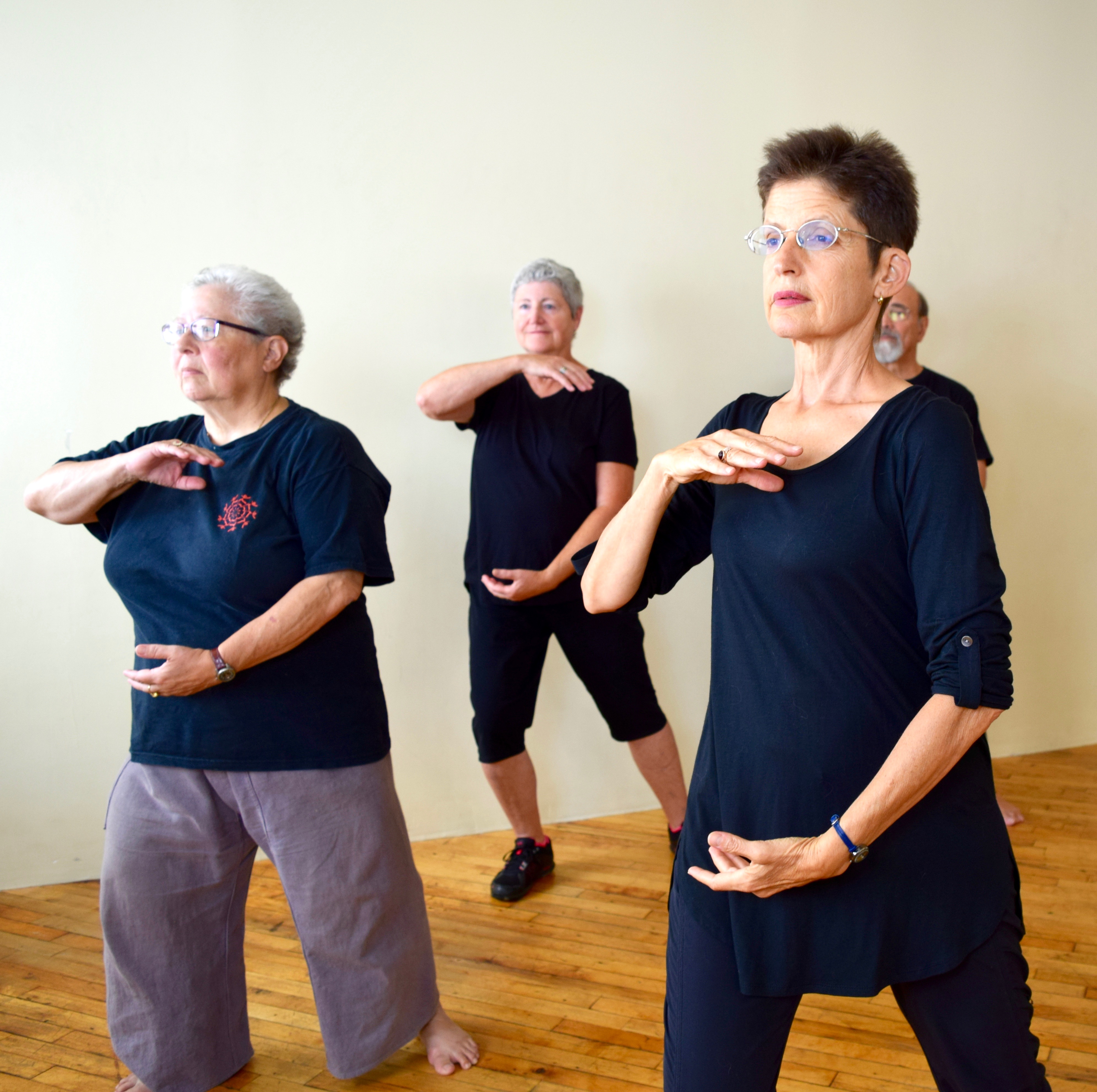 Tai Chi, often called "moving meditation", integrates mind, body and spirit while practicing a series of slow-moving martial arts exercises, called "forms". Tai Chi increases strength, and improves the flow of energy in the body. As a form of exercise, Tai Chi has been shown to lessen the pain of arthritis by strengthening the muscles around the joints, and to improve balance and cardiovascular health. Many students of Tai Chi find they are better able to concentrate, the quality of their sleep improves, they are able to cope with day to day stresses more easily, and they have more energy.  Students learn how to keep the muscles active but not tense, the mind alert yet calm, and body movements well-coordinated.*
Qigong means "cultivating the life force". Through breath awareness, posture, mental focus and simple movements, qi (energy) is increased and circulated throughout the body. This life force can then be directed for improving vitality, self -healing, and health enhancement. In this class we will practice old and new qigong techniques to cultivate qi, cleanse the organs, open the joints and bring the mind, body, and spirit into greater harmony. No previous experience is necessary, and the movements can be easily adapted if need be, so all participants can reap the full benefits. 
*Tai Chi classes at The Yoga Loft are a combination of group and individual instruction. Participants work at their own pace, within their own physical capabilities. For some students Tai Chi is a primary form of exercise; for others, it is used to compliment other activities, such as walking, swimming or weight training. Classes start with a short period of meditation, a series of warm-up exercises, and then independent form practice. It is not as easy as it looks! Perfecting and refining techniques is essential in the study of this art, and you will be working at your own pace to achieve your personal best. The wholesome discipline of a Tai Chi practice provides countless rewards.
 Tai Chi Group Classes
*Attendance at an Intro Talk is a requirement for
anyone who is interested in signing up for Tai Chi classes.
Tuesdays          6:30pm – 7:45pm
Wednesdays    11:00am – 12:15pm
Thursdays        6:30pm – 7:45pm

Sessions:

September 3 – November 7 (8 weeks)
*No classes October 8th – 17th
November 12 – December 19 (6 weeks) 
*No class on November 28th
 Cost:
8 classes = $105 
12 classes = $143  
16 classes = $170
FREE Tai Chi Intro Talks
Tuesday, November 5th, 7:45 pm
Wednesday, November 6th, 10:00 am
Qigong Group Classes
with Hilary Smith

Thursdays         5:30 – 6:25
September 5 – November 7 
*No class October 8 – October 17
Cost: The packages are the same as the Tai Chi packages listed on this page. Class packs may be used for both Tai Chi and Qigong classes.