Progressive In-Depth Studies & Professional Teacher Training Program
300 Hour Certification (Phase 2)
OUR PROGRESSIVE STUDIES AND PROFESSIONAL TEACHER TRAINING PROGRAM is designed to enhance your teaching skills, your personal practice, your knowledge of yoga, and supports our strong belief in the importance of continuing education for yoga teachers. A deeper understanding of yourself and yoga, both as a practitioner and a teacher, will give you the tools and the confidence to offer your students an authentic and meaningful experience in every class that you teach. We welcome all students who have completed an initial 200 hours of yoga teacher training at The Yoga Loft as well as at other studios.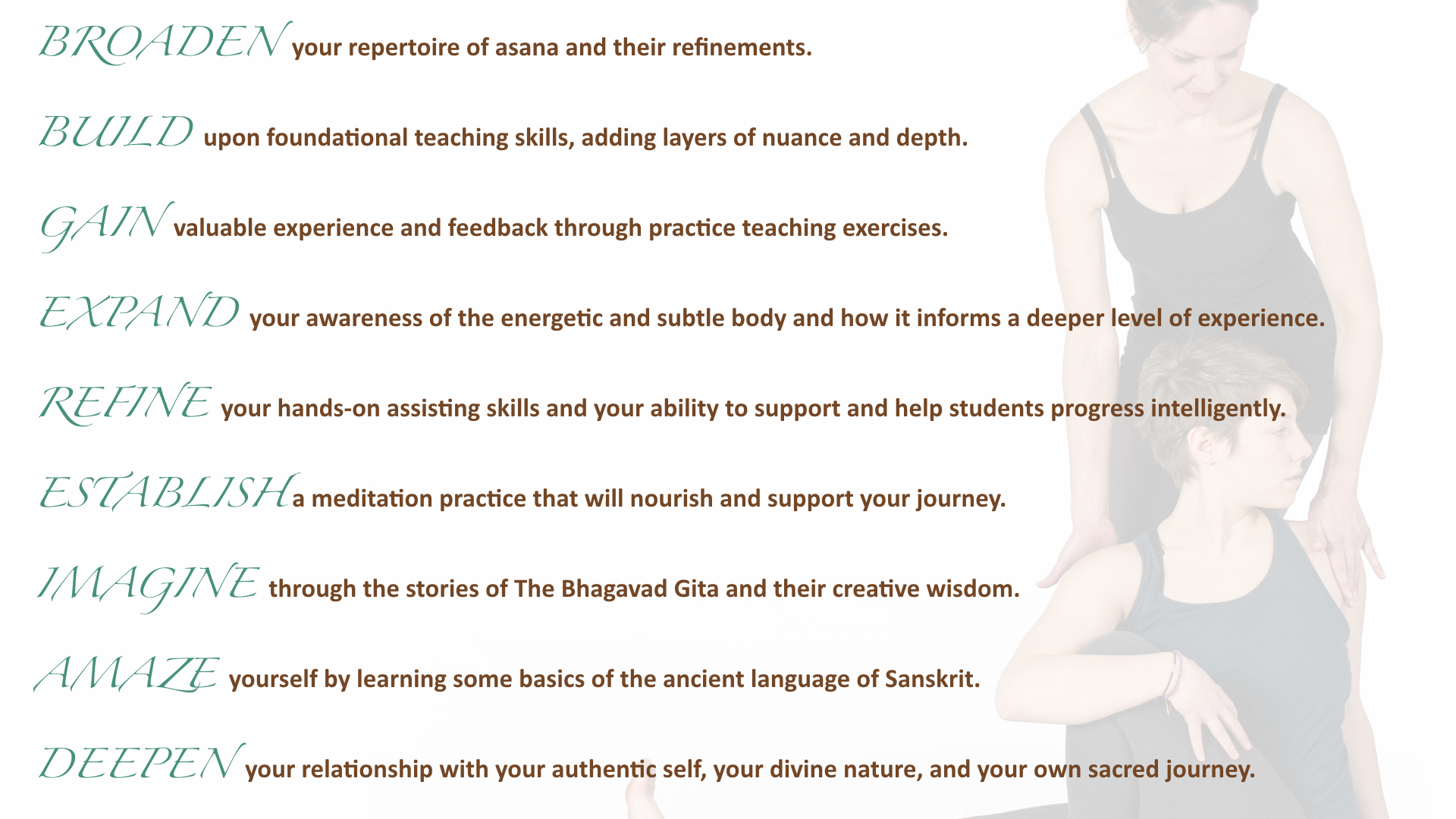 the format
The 300-Hour program is designed so that you can attend the majority of your practices, training classes and workshops conveniently on weekends spaced well enough apart so that the program has a moderate and manageable pace.
You can enroll at anytime throughout the year.
Within your first 18 months, you will complete the "CORE Program" requirements (178 hours) which includes the curriculum listed below under CORE Program.  After or during completion of the CORE Program requirements, you will complete the "ELECTIVE Program" (92 contact hours and 30 non-contact hours.) The ELECTIVE Program gives you the opportunity to select special topics of your choice, and if the topic is not offered at The Yoga Loft, you may receive ELECTIVE Program credit hours for attending workshops/trainings with approved senior teachers at other locations. "Contact Hours" refers to training classes where you are learning in the presence of an approved senior teacher, and "Non-Contact Hours" are hours that can be completed independently, such as online courses. Please note that you must compete 1 Elective Contact Hour in Philosophy, and 5 Elective Contact or Non-Contact Hours in Philosophy. Completion of the program is a minimum of 18 months, and you have a maximum of 3 years to complete both the CORE Program and the ELECTIVE Program. After completion of all requirements, students will be eligible to apply for their 500-Hour Certification with Yoga Alliance. There is also a link below for
Certification Requirements and Tuition Information.
how to apply
Please fill out and submit the application form below, or pick one up at the studio. In addition to your application, there is a $50 non-refundable application fee due at the time you apply. Please follow the link above for full tuition and additional course information. Please attend one yoga class with either Jessie Thompson or Carrie Morgan prior to submitting your application and deposit, notifying the teacher prior to the start of the class that you are attending as part of your program application process.  Please email Yoga Loft Director Jessie Thompson with your questions. Use this link to submit your $50 application fee. Buy Now
This program is registered with Yoga Alliance, and those who complete all components of the program will be eligible to apply for RYT (Registered Yoga Teacher) status at the 500-Hour level.