300 Hour Advanced Teacher Training
Dive deeper into the ancient wisdom of yoga, refine your practice, and learn how to utilize creativity in your teaching.  
We have creatively structured our program so that you can decide how quickly to complete it, as well as which topics you would like to focus on. You will complete our 300 hour Teacher Training Program by attending a total of 12 different advanced training modules, working one-on-one with your mentor, and completing additional outside work and electives. Each advanced training module is 18 hours of training and is held on a weekend (Friday 6-9pm, Saturday & Sunday 9-5).
Once you have completed all of these program requirements, you may register at the 500hr level with the Yoga Alliance.
We welcome all students who have completed an initial 200 hours of yoga teacher training at The Yoga Loft as well as at other studios.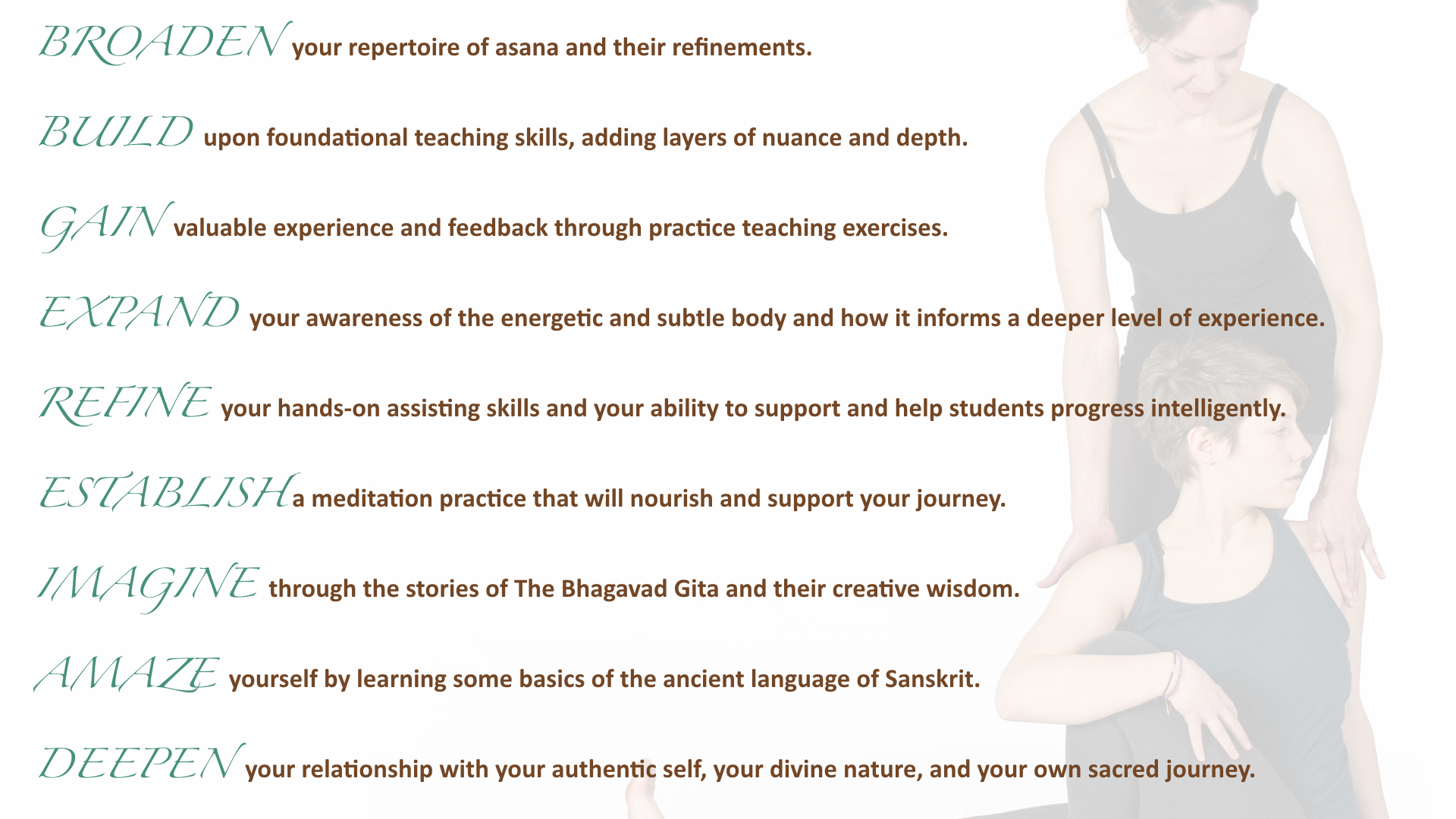 Faculty:
Deanna Nagle
Carrie Morgan
Jeanette Alosi
Alysha Pfeiffer
Sally Delisle
J. Brown
Hillery Woods
Curriculum:
Creative Sequencing
Hands-on Assists
Asana & Advanced Alignment
Anatomy
Practice Teaching
Chakras
Pranayama
Meditation
Mantra & Chanting
Theming Classes
Mythology
Philosophy
Restorative
Ayurveda
Upcoming 300 Hour Modules
January 11-13, 2019: Inversion Playshop with Carrie Morgan and Sangeeta Vallabhan
February 8 – 10, 2019: Yin, Level 1 with Sally Delisle and Deanna Nagle
March 8 – 10, 2019: Exploring the Subtle Body with Jeanette Alosi, Hillery Woods, and Deanna Nagle
Pay Per Module Option: 
$50 application fee
$315 per module (12 modules required)
$200 mentoring & completion fee
__________________________
TOTAL: $4,030
Pay In Full Option* : 
($200 discount)
$50 application fee
$3,780 tuition (includes 12 modules & mentoring)
__________________________
TOTAL: $3,830
*Full payment must be received upon enrollment in the program.
How to Apply
Please fill out and submit the application form below. In addition to your application, there is a $50 non-refundable application fee due at the time you apply. Please attend one yoga class with either Deanna Nagle or Carrie Morgan prior to submitting your application and deposit, notifying the teacher prior to the start of the class that you are attending as part of your program application process. Use this link to submit your $50 application fee.